Quilt No.424AM - Alys Mercer
Description:
This Adelaide Chronicle quilt or bedcover is single thickness white linen with a double thickness wide green border hemstitched in place. The cover is divided into blocks and in each alternate block an Australian bird has been worked in fancywork using stranded cottons.
2019 x 1144mm
History:
The maker was Elizabeth Hart (born Schunke) 1862-1947 while living on a farm at Yalangor north of Toowoomba. It was made in 1933 and passed by maternal descent to L. Bach and then to Alys Mercer (born Hart) Elizabeth's grand- daughter. It is not used now.
Story:
"As mentioned, this quilt was entirely hand made. My grand parents had settled here on the Darling Downs in 1902, previously having lived in South Australia. They still had the Adelaide Chronicle sent weekly and this is where my grandmother obtained the wild flower designs, getting a different one each week as they were published. There was no electricity on the farm so this would have been worked with the aid of a kerosene lamp. Daylight hours were certainly not used for such frivolities as fancy work and not a stitch would be sewn on Sunday."
[Barbara Bullock 24.11.97]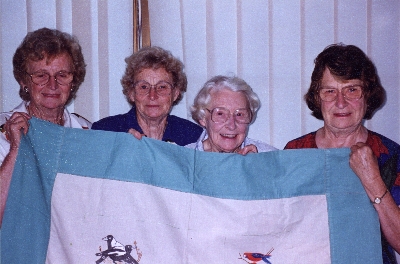 Related Quilts:

Wholecloth pram quilt with a top of pink cotton sateen, and the reverse is a more finely woven, ivory, fabric. All over quilting design as main feature, with stylised hearts, leaves and cross hatching. The padding is cotton batting. 870 x 660 mm.

Hand stitched, cotton, appliquéd, quilt in a flower pattern on a plain background. Colours are shades of green, apricot and browns. This quilt was known as a 'Bride's Quilt'. Padding is thought to be layers of white fabric raised almost like a wadding. The backing is cotton material. 2470 x 2020 mm.

Wholecloth quilt. Top is gold sateen and the backing is gold cotton. Hand quilted in an overall large shell pattern within a border of three parallel lines spaced at 1000, 800, 700mms respectively. The padding is cotton wadding. 2000 x 1800mm
Quilt, single bed size, made from reused clothing roughly handstitched on to a backing of a wool/linen blanket type fabric in green, cream and brown stripes. Clothing is fronts and backs of old jumpers, vests etc as well as opened out sleeves in red, brown and grey. They are stitched together in several layers with long stitches. Another top may have been intended to cover the stitched down layers of clothing.
1500 x 1040mm

Wholecloth cover in synthetic rayon. Centre plain, drop slightly gathered, edging border is large saw tooth appliqued pieces in flannelette, striped seersucker, crepe de chine. Materials typical of the 30s through to the 50s. The appliqued triangles are chain stitched in yellow thread which also anchors them to the backing.
2450 x 1940mm

Wholecloth quilt originally covered with cretonne and recovered with orange satin. Machine quilted. Padding of wool.
1270 x 1160mm