Quilt No.771PHM - Powerhouse Museum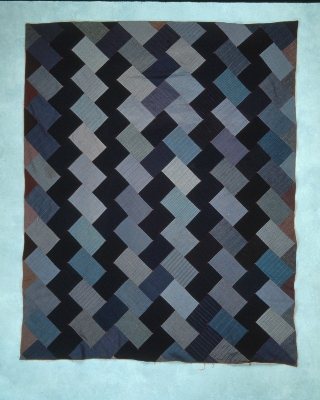 Description:
"The quilt has been machine- pieced from rectangular swatches of men's woollen fabrics in shades of blue, grey and black, and in various weaves including stripes, checks, chevrons and spots. The swatches are offset at right angles to each other in such a way as to create strong zigzag bands of light and dark along the length of the quilt. The join at the corner of each swatch is marked with a hand-stitched cross in red cotton. The backing has been removed, showing the pinked edges of the suiting swatches. A yellow-brown piping band, possibly the remains of the backing, is sewn around all...
History:
The Powerhouse Museum bought the quilt from Simpson Antiques, Woollahra, NSW.
Related Quilts:

Handmade quilt in off centre log cabin pattern. Pieces are floral furnishing and dress fabrics, in twenty blocks. There is no padding, and backing is of bright floral cotton. 1900 x 1500 mm.

Patchwork quilt made of pieced blocks in the 'Shoofly' pattern, in white cotton and a red, white and blue geometric cotton print. Alternate squares are in the print. The border is made of same size squares in the print. No padding. The backing is a sheet. Hand sewn.
1829 x 1829mm

Hexagon quilt constructed over papers; all seams oversewn with featherstitch embroidery. Materials are vyella and clydella scraps from childhood dresses of the maker's first four children, augmented with scraps from a dressmaker and a book of samples. There is no padding; backing is plain, pale blue, brushed cotton.
2200 x 1720 mm.

Cotton log cabin double bed quilt. Each square has 52 pieces (i.e. 13 pieces x 4 to make a square). There are 192 squares so a total of 10.092 pieces. There is probably no padding. The backing is calico with a floral pattern done in running stitch.
2200 x 2200mm

Rectangular patchwork crazy quilt pieced in squares (3 across by 4 down), in silks and wool, with red sashing between blocks and red border, quilted. Colours are dark, with red and light blue. Embroidery includes double feather, rope, herringbone, satin, cross, sword edge, buttonhole and coral stitches, and French knots. Embroidered flowers include lily of the valley, rose, daisy, and sunflower, also butterflies. Backing is pieced in the frame style, with a large centre red square, within 10 frames or borders. Embroidered "In Most Loving Memory of My Darling 1883", "V.H.B." Hand sewn.
1900 x 1500mm

Patchwork quilt made from diamond patches in a variety of cotton materials set in a 'tumbling block' pattern. Patterns include geometrics, stripes, a 'Kate Greenway' print and colours are largely soft pastels, dark browns, with some reds and blues. The quilt has been cut down and a later border added. There is no padding and the backing is cream cotton.
2279 x 2000mm