Quilt No.89DS - Dorothy Stevens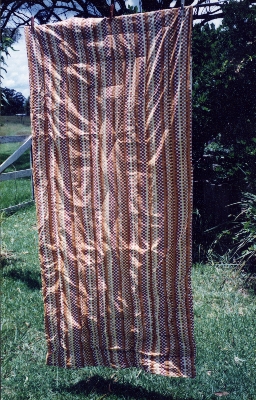 Description:
Utilitarian quilt made for a child's bed. Padding is hand and machine knitted pieces of clothing. Top and backing is wholecloth of the same cotton fabric. Machine quilted in a simple pattern.
1728 x 864mm
History:
The quilt was made by Emmiline Marsland in 1964 in Brisbane for Andrew, the 4 year old son of Dorothy Stevens,the present owner. "I have used it now and then as a floor rug for visiting babies and as an underlay on a camp stretcher."
[Dorothy Stevens 18.3.96]
Story:
Emmeline was a steward at the ECCA (RASQ Show) before moving to Roma to care for 2 motherless children. She remained unmarried but adored children, stitching children's clothes for the various adopted families over a 30 year period.
"Emmiline Marsland was my very dear friend. I boarded with her when teaching in Roma in 1952-53. She was born 30th July 1901 and died 18 December 1986. A dressmaker by trade , she was skilled in many crafts, fine embroidery to woodwork and had a great love for children. I remember sleeping under the green quilt in Roma and it was probably used for packing precious furniture when moving form Roma to Maryborough to Brisbane."
[Dorothy Stevens 18.3.1996]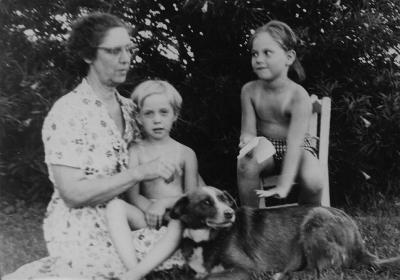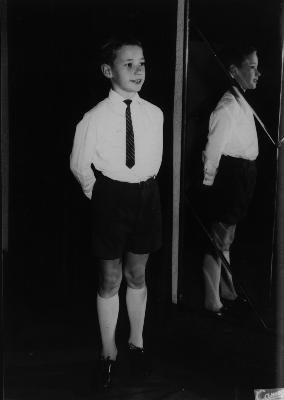 Related Quilts:

Wholecloth pram quilt with a top of pink cotton sateen, and the reverse is a more finely woven, ivory, fabric. All over quilting design as main feature, with stylised hearts, leaves and cross hatching. The padding is cotton batting. 870 x 660 mm.

Hand stitched, cotton, appliquéd, quilt in a flower pattern on a plain background. Colours are shades of green, apricot and browns. This quilt was known as a 'Bride's Quilt'. Padding is thought to be layers of white fabric raised almost like a wadding. The backing is cotton material. 2470 x 2020 mm.

Wholecloth quilt covered with floral cretonne both sides, deep pink and yellow flowers on a cream background. The padding is hessian/jute type bags joined.
One of a pair but the other quilt is larger.
1800 x 900mm

Wholecloth quilt made from turquoise and red plaid brushed cotton, with a filling of a marcella bedspread with cut up pieces of knitted and crocheted garments stitched on top by hand and machine. Garment pieces are pink, red, yellow, black and pastels. Sleeves, collar and pockets can be clearly seen. Backing is an old blanket.

Patchwork quilt made from pure wool suiting samples in shades of navy blue and brown. Quilt is constructed in 11 rows containing 11 pieces. Each piece is 14cm x 9cm. No padding. Backing is of mauve cotton with a floral pattern of closely spaces white/pale mauve flowers.
1480 x 900mm

The top is machine pieced patches of used clothing. The backing is large pieces of dress materials and either end patches similar to the top. The padding is a chaff bag or similar with patches of worn, matted children's jumpers sewn directly on to it.
1400 x 1150mm