Fassifern District Historical Society Inc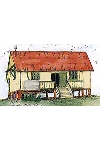 Fassifern District Historical Society oversees Templin Historical Village which consists of a country church, a store, house/office, school, dairy, slab hut and other museum buildings grouped around a central green to recreate a village atmosphere. The museum also has a collection of historical items and photographs.
Address:
Boonah - Fassifern Road, Templin, Boonah, QLD
Hours:
Tursday 9.30am - 12.00noon, Sunday 9.30am - 3.30pm or by appointment.
Admission:
Adults $5.00, Child $2.00, Family $12.00
Facilities:
Wheelchair access, toilets, refreshments, guided tours, shop, landscaped gardens
Collection:
Estimated 10,000 items plus 5,000 photos
Items
Pump
Cast Iron Pump
Creator:
W. Wright, Melbourne
Description:
Pump used to pump water for sheep washing in 1860s locally. Very rare early Australian manufacture.
Horse-drawn vehicles
Sulkies and Wagons
Description:
Collection of horse drawn vehicles some fully restored.
Blacksmith Forge
Forge
Description:
A fully restored and used forge dating from 1890s, used by local Bonke family until 1960s.
Hut
Slab Hut
Description:
An original slab and shingle hut, furnished in 1890s style.
Jinker
Jinker
Creator:
PT Barbett Foundry, Ipswich
Description:
A huge wooden jinker, made in Ipswich to cart logs to sawmill. Never used because it was too heavy.