Quilt No.296OGH - Old Government House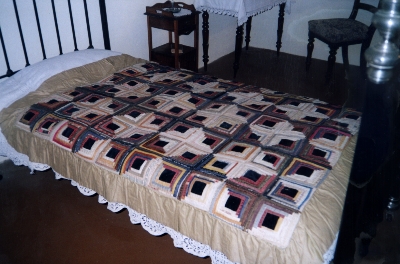 Description:
Patchwork quilt in Log Cabin pattern made from silks, velvet, cottons and taffetas, in prints and plain, around a centre squares of black velvet. Colours are, in the dark sections, blues, greens, browns, yellow and pinks. The base of the blocks is blue and white ticking. The padding is probably cotton. Backing is of green cotton. There is an attached frill on all sides of green cotton, faded to dull light brown.
1630 x 1350mm
History:
Made in Australia around 1870 by Sarah Keen (1830 - 1910). Previously owned by Mrs Keens' grand-daughter Miss Lenore Roach, now owned by National Parks and Wildlife Service, Old Government House, Belair SA.
Story:
Sarah was born in 1830 in Somerset, England, and came to South Australia in 1855. Her husband was the Reverend Thomas Keen. Through his ministry they lived in many towns in South Australia.
Related Quilts:

The top is machine pieced patches of used clothing. The backing is large pieces of dress materials and either end patches similar to the top. The padding is a chaff bag or similar with patches of worn, matted children's jumpers sewn directly on to it.
1400 x 1150mm

Wholecloth quilt in white cotton voile with alternating designs of Australian wildflowers worked in multi coloured cottons and shadow work. It is backed with yellow voile. There is no padding.
2010 x 1910mm

Quilt made of hexagons in cotton materials, the hexagons set in the 'Grandmother's Flower Garden' pattern with 6 patterned patches set around a plain coloured centre patch and white hexagons forming 'paths'. There is a white cotton backing with the edges turned under all the way around and top and backing are joined by a blue machine sewn satin stitch. The patches are hand sewn.
2160 x 1830mm

Patchwork quilt made from a variety of printed cottons over 70 prints, using shirting and dress fabrics, fabrics also from pyjamas, curtains, aprons, tablecloths. The centre medallion is a square within a square with white borders, the inner frame made of sawtooth triangles. This is surrounded by pieced triangles, square within a square and crosses. Outer frame of sawtooth triangles, and outer border pieced of squares and triangles. Colours are pinks, blues, burgundy and pastels, with floral, stripe and check prints. Lining of cotton. Backed with a printed cotton. Quilt is bound on all edges.
2430 x 2250mm

150mm squares of old material scraps, mostly cotton, including some curtain material. There is no padding and the backing is brown lawn.
2540 x 2370mm

Quilt consisting of 30 blocks 360 x 360mm each (5 x 6). Each block consists of squares and rectangles arranged diagonally and edged with triangles. Each block is made from 2 or 3 different cotton materials, different colours but mainly pastels. It has not been quilted but tied with pink wool with 5 ties per block. Machine sewn with a folded and machine stitched edge. Padding appears to be coarse open weave cotton. The backing is printed flannelette.
2210 x 1850mm