Quilt No.313JL - Joyce Lacey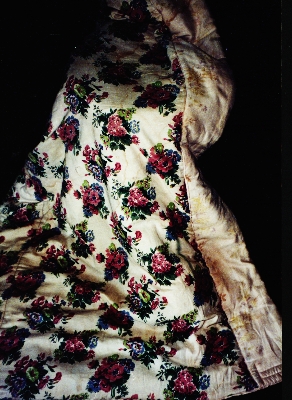 Description:
Wholecloth utility quilt, the top made of good quality cotton printed with posies of pink, blue and green flowers and leaves, the backing of plain cream cretonne, with a flap of plain cretonne, coming over the top side. Padding is made from blanket and jumper pieces stitched to a blanket base. Cretonne has signs of wear, and the cream backing has some staining. Top and backing machine sewn.
1840 x 1220mm
History:
Made by Ivy Campbell (born Castle, 1901-1957) in 1937, in the Lockyer Valley (Qld), and owned by her daughter, Joyce Lacey. Called the 'wagga' or the 'wagga rug'.
Story:
Joyce Lacey remembers sleeping under the quilt was uncomfortable due to the weight of it. The quilt has been used for moving furniture and sent to Scout camp with Joyce's son Graham when he was younger.
"My mother Ivy's mother was a very good sewer however she would not allow my mother to use the sewing machine (afraid the girls would damage the machine). As a result when my mother married and produced four children in four years she had to teach herself to sew in a hurry! She did household mending, embroidery, doilies & the like.
My mother used flour bags for our clothing. The printing was bleached out of them & our underclothes were made out of the calico fabric."
[Joyce Lacey 1998]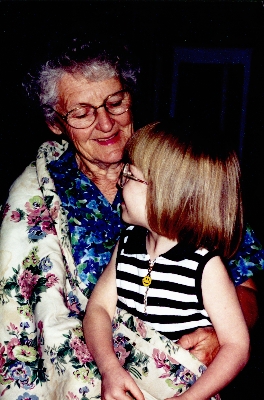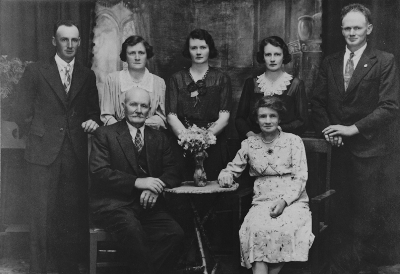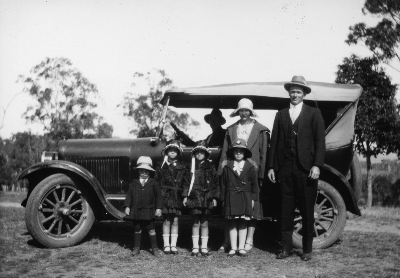 Related Quilts:

Wholecloth pram quilt with a top of pink cotton sateen, and the reverse is a more finely woven, ivory, fabric. All over quilting design as main feature, with stylised hearts, leaves and cross hatching. The padding is cotton batting. 870 x 660 mm.

Hand stitched, cotton, appliquéd, quilt in a flower pattern on a plain background. Colours are shades of green, apricot and browns. This quilt was known as a 'Bride's Quilt'. Padding is thought to be layers of white fabric raised almost like a wadding. The backing is cotton material. 2470 x 2020 mm.

Wholecloth quilt, both sides cretonne in different rose patterns. 120mm double frill matches each side. Padding is possibly hessian bags. It is hand quilted in large stitches in white/cream cotton in strips with circles, diamonds and scrolls repeated.
2070 x 2030mm

Old jute wool pack opened out and joined together selvedge to selvedge. Ends bound with recycled curtain material.
1550 x 1321mm

One side of this wholcloth quilt is a single piece of cretonne or similar with a pattern of autumn leaves. The other side is patched pieces of curtaining. The padding is old clothing, mainly knits, tacked to random pieces of curtain material. The quilt is tacked together to hold all the padding in and machine stitched to the backing.
1850 x 1100mm

Wholecloth quilt made from deep cherry red satin with a backing of red cotton. The padding is cotton wadding. It is hand quilted and the pattern is a central motif of a large diamond with diamond fill. Each corner has a pattern of curved lines and the quilt border is created by four parallel lines.
2070 x 2000mm