Quilt No.372FK - Fred Keen
Description:
Patchwork quilt with front and back made from different sized patches of used woollen clothes, stitched in a random manner. Fabrics include men's trousers, and tweeds, checks and plains, in navy, grey, browns and fawn, and some red and white check. Backing is from larger pieces, including large patches of a dark pink, some green and some navy rectangles. Filling of wheat bags and part of a travelling rug was removed because it was too heavy.
1600 x 1000mm
History:
Made about 1940 by Rebecca Keen (1889-1965) of Temora (NSW). Previously owned by Reg Keen, Rebecca's grandson, now owned by Fred Keen, Rebecca's son, and his wife Ena.
Story:
"The maker of the Wagga Rug was Rebecca Keen (1889 - 1965) who was the Mother of the present owner, Fred Keen. The rug was made in about 1940. Rebecca was married to Alfred (1909) who broke his hip loading wheat and later managed pubs and grocery stores in country N.S.W. Rebecca was a Temora girl. They had 8 children and it was a tough life. Rebecca often did the cooking in the hotels they managed as well as rearing the children.
Rebecca made 6 Wagga Rugs. One was for Fred and Ena when they were 'keeping company' in the 1930s. It was a double bed size and was too heavy to use as it had wheat bags in the middle. It no longer exists. The others Rebecca made were for Fred and Ena's children i.e. her grandchildren.
This Wagga Rug was made for Reg (one of the children) about the time he was born in 1940. Reg was a bachelor and thought the world of his Wagga Rug. It used to have wheat bags and part of a travelling rug in it but these have been taken out.
Ena recalled that her Mother in law, Rebecca, would come over from Temora and do the mending and patching and make pants for her grandchildren from legs of trousers."
[Additional information from informal interview Fred Keen and Wendy Hucker for NQR, Wagga Wagga, 1999.]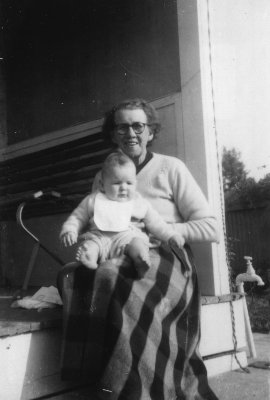 Related Quilts:

Patchwork quilt, all cotton including cotton padding filler. The design is 'Dresden Plate' or 'Friendship Circle'. Background is white with multicoloured and patterned triangular pieces forming circles. Hand stitched and heavily quilted.
2235 x 1778mm

Patchwork quilt made from rectangles of mostly woollen fabrics sewn in strips and then stitched together. Fabrics left over from dressmaking projects. Machine stitched. Colours mainly green, purple, blue, pink, pastels, in plain, checks and spots. No padding or quilting. Lining is an old bedspread.
2200 x 1440mm

Double sided patchwork quilt. One side has small 'Tumbling Block' pattern. The other side has larger pattern of pieced stars. It is made of silks, some printed, some solid colours mainly blues, greens cream and black. There is no padding.
2100 x 1800mm

Handmade quilt in off centre log cabin pattern. Pieces are floral furnishing and dress fabrics, in twenty blocks. There is no padding, and backing is of bright floral cotton. 1900 x 1500 mm.

Patchwork quilt made from brightly coloured printed cotton fabrics in hexagon patches hand sewn together in rosettes, and stitched by machine onto a border of green moire taffeta. No padding. Backing is green cotton satin curtain lining. There is a matching pillow sham.
2591 x 2540mm

Cotton log cabin double bed quilt. Each square has 52 pieces (i.e. 13 pieces x 4 to make a square). There are 192 squares so a total of 10.092 pieces. There is probably no padding. The backing is calico with a floral pattern done in running stitch.
2200 x 2200mm