Quilt No.402JG - Jean Gilbert
Description:
Rectangular pieces made from tailors' swatches and machine pieced in strips. Some pieces darned. Main colours blue, grey and brown. No padding. Backing is floral cotton with orange and brown flowers.
1879 x 1220mm
History:
The quilt was made by Augusta Ruby Craigie (born West) known as 'Gus' at Petersham Sydney in the 1930s. It was one of 11 or 12 made for the family weekender at Tuggerah Lakes (NSW). Augusta Craigie then passed it on to her grand-daughter Rhonda Graham (born Gilbert) via Jean (Bonnie) Gilbert her daughter. It is not used now.
Story:
Augusta Craigie's brother-in-law (Bert Monahan) and sister Minnie Monahan were a tailor and tailoress respectively and supplied the tailors' samples for the quilts called "wagga rugs" by the family. The weekender had six double canvas bunks and the quilts were made to use on these.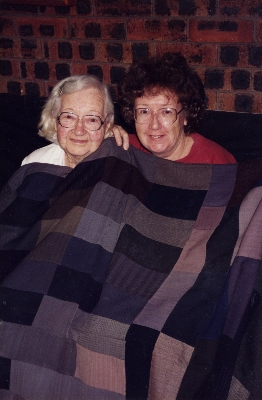 Related Quilts:

Hexagon quilt with rosettes centred in an all over diamond pattern. It is hand pieced and hand quilted. All the materials are either linen or pure cotton. The quilt is padded with batting (American) and the backing is floral cotton.
2360 x 1800mm

Hand pieced cot quilt made from small rectangular shapes of a great variety of materials including cottons, silks, wools and velvets. The backing is cotton sateen in 3 colours and is brought to the front to form a border of pink, cream and yellow.
1170 x 920mm

Small rectangular bed cover, probably child's or even doll's, made from rectangles of cream linen stitched together with hand sewn french seams. The top surface is decorated with small squares and rectangles of coloured silk, velvet, wool and cotton attached approximately 25mm apart, with 3 stitches in centre of patch to attach to background. Bright pink wool patches stand out.
935 x 635mm

Hand pieced hexagon quilt in pattern known as 'Grandmother's Flower Garden". 12 hexagons, in patterned cottons, form the outer border of each flower with an inner border of 6 matching plain coloured hexagons and all flowers have a yellow hexagon centre. There is no padding, a cotton backing and it is hand quilted.
2400 x 1780mm.

Patchwork quilt has three centre squares, one in blue/white/brown in a cross pattern, one in framed square, one with diagonal strips in a pink frame. The rest of the quilt is made from strips of rectangles in different sizes sewn in rows. There is a narrow pieced frame, then an outer border of pieced rectangles. Mostly pastel colours. No padding. Backing is calico. There is a little embroidery.
2160 x 1601mm

Patchwork quilt, all cotton including cotton padding filler. The design is 'Dresden Plate' or 'Friendship Circle'. Background is white with multicoloured and patterned triangular pieces forming circles. Hand stitched and heavily quilted.
2235 x 1778mm