Queen Victoria Museum and Art Gallery at Royal Park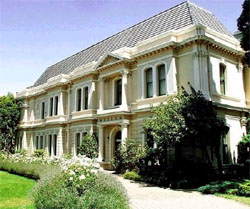 The Queen Victoria Museum and Art Gallery is Launceston's cultural heartbeat and gateway to Tasmania's history and character. It tells the story of our lives and the time and place in which we live. It draws a map of who we are and where we've been. See separate Guide listings for the Community History Branch, the Inveresk museum site and the Launceston Planetarium.
Address:
2 Wellington Street, Launceston, TAS
Hours:
Daily 10.00 am - 5.00 pm. Closed Good Friday and Christmas Day.
Admission:
Adults $10, Seniors $9, Under 18s free.
Collection:
The Museum and Art Gallery holds collections of Australian colonial art, contemporary craft and design, Tasmanian history and natural sciences. Special features include a Chinese Temple, Planetarium and the interpretation of one of Tasmania's most intact nineteenth century industrial environments - the Launceston Railway Workshops.