Kojonup Historical Society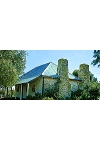 The Kojonup Historical Society have been given the responsibility of two major historical buildings in Kojonup. The military barracks, built by the 51st regiment in 1845 as a military outpost, is now a museum featuring the building's past as the outpost, a school and a private residence. Elverd Cottage is a restored Pensioner Guard Cottage. One of a very few still featuring many of its original structures.
Address:
Spring Street, Kojonup, WA
Hours:
Sunday 2pm - 4pm or on request
Facilities:
Brochures available, Curator/guide, Limited wheelchair access.
Collection:
The Kojonup Historical society also have a large collection of early photos, research material and over 1,000 objects ranging from household to farm machinery. A military room in the barracks includes items from Indian Campaign 1840's - Vietnam.
Items
Medal
Medal (Cabul, India)
Description:
The medal was presented by John Robinson for service at Cabul in India before he came to Western Australia in the Enrolled Pensioner Force. Robinson was corporal in charge at Kojonup in 1854.
Cabul, India, Kojonup, Western Australia
Ship's candlestick
Ship's candlestick
Description:
This brass ship's candlestick is designed to remain upright regardless of the ship's movement. It is gyro mounted with a large lead weight at the base. It was brought out on the ship "Jana" by Corporal Richard Norrish (96th Reg), who later settled in Kojonup.
Kojonup, Western Australia
Medicine chest
Medicine chest
Description:
Wooden 19th century Medicine chest containing a variety of glass bottles with glass stoppers. First used in Outback of Queensland but then brought to Kojonup by second generation. Made up in Sydney.
Kojonup, Western Australia, Queensland
Harness Display
Harness Display
Description:
This display is in a separate building and can be seen by arrangement with Tourist Centre. Very comprehensive display of horse gear - for work and play.
Kojonup, Western Australia
Pensioner Guard House
Elverd Cottage
Description:
Elverd Cottage is one of a very rare Pensioner Guard cottages. Restored but authentic example of the set style dictated for Pensioner Guards. Close by large machinery display. Arrange with secretary.
Kojonup, Western Australia