Fremantle Prison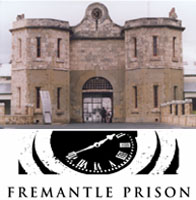 Fremantle Prison is one of Western Australia's premier cultural heritage sites situated on 6 hectares. It was built by convict labour in the 1850s and decommissioned as an operating gaol in 1991. It was the last convict prison built in Australia and remains the most intact. It features the longest and tallest cell range constructed by the British Royal Engineers in this country.
Fremantle Prison has special architectural significance in addition to its monumental limestone buildings. Within the walls are the wells and reservoir that provided water for Fremantle. The early jarrah roofs that arch over the huge main cell block and the Anglican Chapel are testament to the skill of the Royal Engineers and the convict labour force.
The Prison has become a significant attraction for both tourists and local visitors since opening to the public in 1992. In recognition of its historic significance, the Prison has been entered into heritage registers at State and national levels
Address:
The Terrace, Fremantle, WA
Hours:
Daily 10:00am - 6:00pm, Wednesday & Friday candle-light tours. Closed Christmas Day & Good Friday
Admission:
Adult $14.30, Child $7.15, Concession $11.00, Family $38.50, School group $4.40
Facilities:
Guided tours, cafe, ice-cream parlour, souvenirs, functions, education program
Collection:
Approximately 5,000 moveable objects, 2,000 photographs, buildings and objects in situ
Items
Porridge boats
Creator:
Ernest "Shiner" Ryan
Description:
Two model boats made from porridge, glass and salt by a Fremantle prison inmate.
Item Id Number:
82.2;88.13
Murals
Description:
A series of murals were painted on cell and exercise yard walls during the last 18 months the prison was used.
Convict jacket
Description:
Black and yellow jacket with ordinance arrows