Irwin District Museum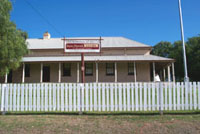 The Museum is housed in the Old Police Station, Prison and Courthouse complex. The building was erected in 1870, with extensions being completed in 1873. The original building comprised a court room, police station, cell block and living quarters, and was built from locally-quarried limestone; the walls are some 450mm thick, constructed in the coarse random rubble style. The roof, which was originally wooden shingle, has been replaced by corrugated iron. A sample of the original shingles is displayed in the exhibition.
The Irwin District Historical Society have another museum located at Russ Cottage, Dongara. See separate Guide listing.
Address:
Old Police Station, 5 Waldeck St, Dongara, WA
Hours:
Monday - Friday 10.00am-4.00pm, Saturday 10.00-11.30am.
Admission:
Adults $2.50, Concessions $2.00, Families $5.00.
Collection:
The collection has a wide range of items on display. A rabbit display shows where they came from, how they died and how they returned. A comprehensive camera display, policing in the Irwin District, shipwrecks along the coast, and pioneers of the Irwin District are all on display, together with communications, transport, family heirlooms and archival records.
Items
Desk Set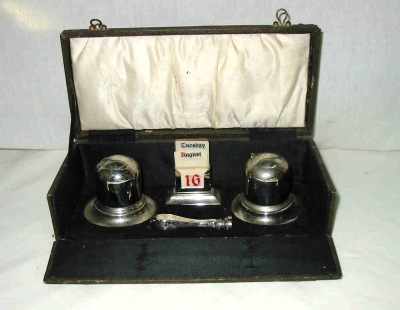 Description:
Leather-bound box with two inkwells, one silver seal, one silver calendar/date holder. Date cards are celluloid. The set was found by the Grierson faily who purchased the Lighthouse-keepr's Cottage, built in 1869.
Item Id Number:
1990 L/0019
Handcuffs
Description:
Handcuffs with chain attached, used to chain two or more prisoners together.
Item Id Number:
1994 V/0021
Camera
Premo no 4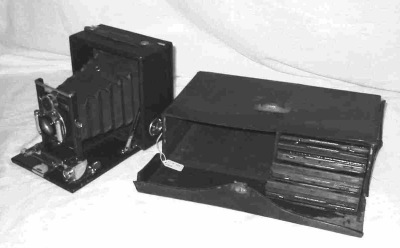 Description:
Folding camera in leatherette case with fibre bellows. Includes glass negative holder and leather case. Used by William Wilton in the Irwin district.
Item Id Number:
2001/R 0316
Bible
Wilton Family Bible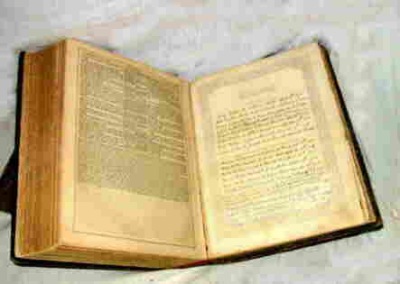 Description:
Illustrated family bible containing family birth, marriage and death dates and records (1818-1973). Owned by the Wilton family.
Item Id Number:
1990 L/0095
Ticket of Leave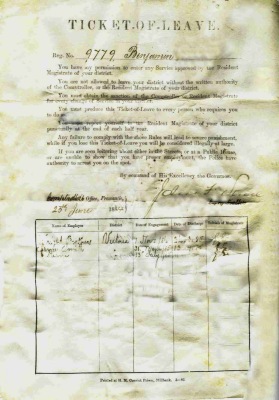 Creator:
HM Convict Prison, Millbank, UK
Description:
Ticket of leave for convict no 9779, with Employers, District, Date of Engagement, and Date of Discharge listed.
Item Id Number:
1995 R/0020