Memorial to R. Godfrey Rivers, St Davids Cathedral, Hobart, 1931-1932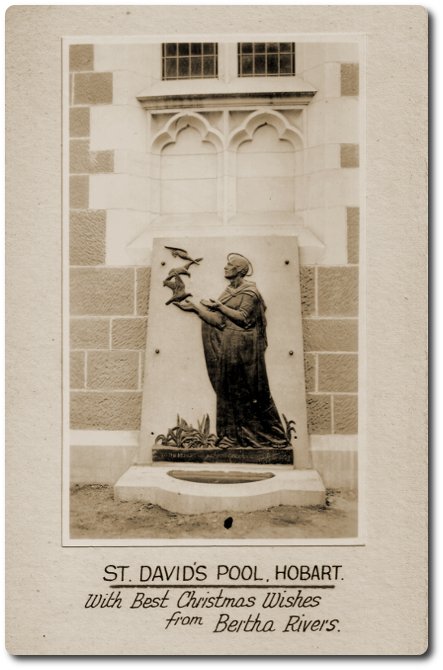 Description:
A bird fountain memorial set into an outer cloister wall of the Cathedral. It comprises a miniature drinking pool set into a granite base, then raised from a slightly tapering bluestone plaque set against the cloister wall is a bas relief bronze figure of St David, the patron saint of the Cathedral of Wales, stretching his arms towards three birds. The Welsh national emblem, leeks, form the base of the bronze relief.


Dimensions:
160cm high, 117cm wide


Notes
: Inscribed in incised lettering on base of bronze relief "To The Memory of Richard Godfrey Rivers 1859-1925".


Comments:
Commissioned by Miss Rivers in memory of her brother and Daphne Mayo's former Brisbane art master, R. Godfrey Rivers. The commission was co-ordinated by his wife and his brother the Dean of Hobart as his sister was blind.