Statue of Major General The Honourable Sir William Glasgow, 1961-1964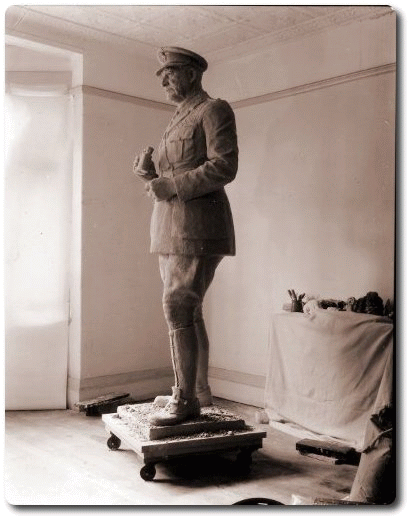 Description: Larger than life-sized statue of a Queensland war hero, politician and diplomat, in battle dress of the Light Horse, standing holding field glasses, in bronze with a brown/green patina, and mounted onto a high standstone inscribed plinth.
Dimensions: 248cm high, 90cm wide
Notes: Commemorative inscription on plinth begins: Major-General the honorable Sir William Glasgow K.C.B., C.M.G., D.S.O., D.V.C de G. 1876-1955; Unveiled 11 November 1966.
Provenance: commissioned in 1961, initially unveiled 11 November 1966 in Roma Street, Brisbane, later moved to Roma Street entrance to the King George Square car park, more recently in 2009 relocated to Post Office Square after being refurbished and supplied with a much larger granite base.